post may contain affiliate links.
We've been on a roll the past few weeks sharing a couple new
hands-on ways
for your child to practice his/her spelling list, and today I am sharing yet another idea that was a
big hit
with my son!
Why, you ask?
It involved Legos.
It is a game.
It is similar to hangman.
Thus, we practiced his latest spelling list with a little game called,
Build a Lego Figure
.
However, the catch is is that
you do not want
to build a Lego figurine! But building a mis-matched Lego figurine was half the fun!
What you need:
Spelling List
Tray
Lego figure pieces
.
We used a tray that was divided into six compartments. In each compartment was a group of Lego pieces: legs, bodies, heads, hats, miscellaneous pieces, and a couple of cars my son built.
With these pieces, my son had six chances to pick the correct letters to spell one of his spelling words. So if you guessed a letter that was not in the word, he had to choose a Lego piece. We continued until he had a Lego figure built and/or he correctly spelled or guessed the word!
As I mentioned, it was a big hit with my son and I'm sure we'll be practicing his spelling words like this a lot more!
More Hands-on Spelling Activities:
All About Spelling
!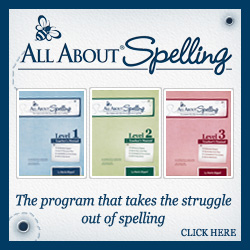 I'd love for you to follow along so you never miss out on one of our fun activities we share at School Time Snippets!
©2011-2015 School Time Snippets. All rights reserved. You are free to link back to my website but all text, photos, and other content may not be reproduced without the written consent of the author.